What you'll need to know
  Dial in phone #: 675-4112 or 675-4107 (contact us for local numbers outside of Lawrence County)
  Username / Email address (Selected by customer during sign up)
  Password  (Was provided by customer at time of sign up)
Step One
Open Network and Sharing Center
Click on Start button and type "network" as indicated below.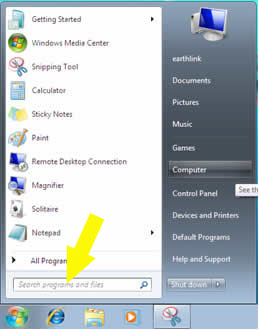 Click "Network and Sharing Center" from the search results.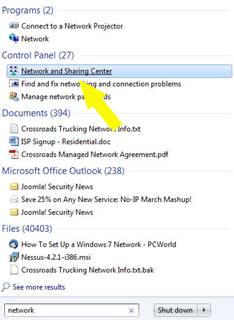 Step Two
Create a Dial-up Connection
Click "Setup a New Connection or Network".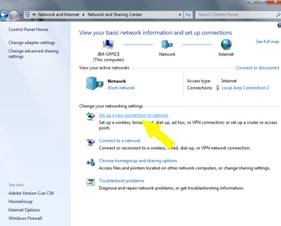 Select "Connect to the Internet" and Click Next.
Select "Dial-up".
Enter the Information from the "What you'll need to know" section of this document.
Important:  Place a check in the "show characters" checkbox and examine the password field for mistypes or spelling errors.
When you are satisfied that the information is correct, Click the Create button.
Step Three
CONGRATULATIONS!
Once you have created you connection windows will automatically attempt to connect to the internet. You will need to have a working dial-up modem installed on your machine. Please note that most computers DO NOT come with dial-up modems.
If windows fails to connect please contact HPC support at 275-2456 Monday – Friday 9am until 5pm.